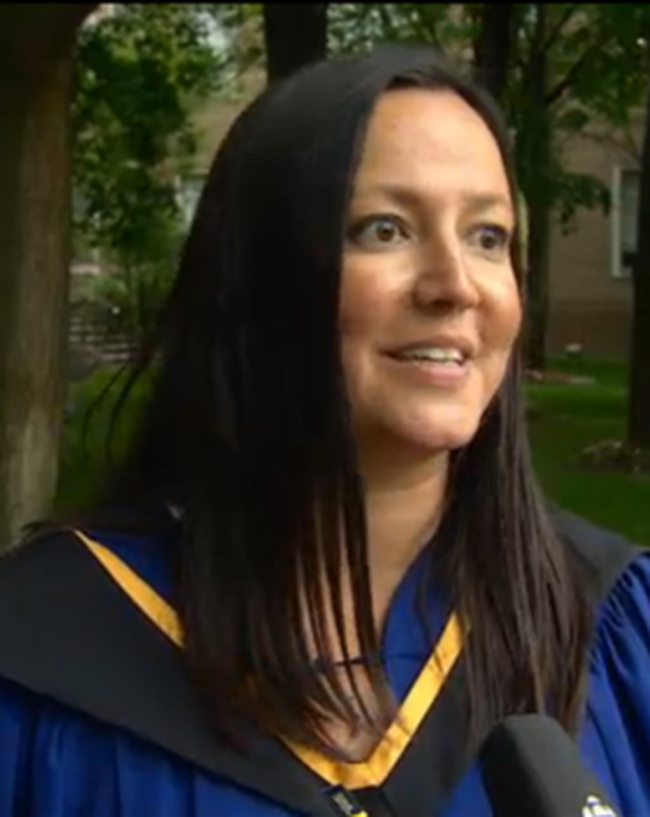 TORONTO – Marcella Nabigon-Guerin and her daughter graduated from university the same week.
Marcella, 40, a citizen of Long Lac #58 First Nation, received a Bachelor's degree in Social Work from Ryerson University on June 6. She was one of 44 First Nations and Aboriginal students graduating,  the largest-ever group. On June 4 her eldest daughter Melanie was awarded her BA in Indigenous Studies from Laurentian University  in Sudbury, where the family makes their home.
"Education is important for our people as it helps us as Anishinabe people to move into leadership roles that are crucial for advocating for and meeting the needs of our people and communities," says Marcella, Loon Clan, whose Spirit name is Mukwa Kwe. "Further,  as Anishinabe people part of our role is to protect creation and education allows us to do this, because the work we do with our people and communities contributes to the healing of the people and all of creation."
Marcella says she plans to  continue her education by pursuing her Master's degree in social work from Wilfrid Laurier University while working full time as a supervisor of a First Nations Service team at the Sudbury-Manitoulin Children's Aid Society, where she has worked for 10 years.
She was one of 18 social work students who graduated from the First Nations Technical Institute (FNTI)-Ryerson partnership program. Since 2003, Ryerson's School of Social Work has had a partnership with FNTI, located in Tyendinaga Mohawk Territory near Belleville, Ont. Courses are delivered off-campus to indigenous students pursuing a Ryerson social work degree.
"I liked the philosophy of it," she said. "I liked how it was condensed and I could fit it into my work schedule."
Since the program began in 2003, close to 70 students have graduated. Courses are offered in an intensive format, one week at a time, interspersed with at least one month before the next week of instructions. More than half of the professors are aboriginal and traditional Indigenous elders and practitioners provide culturally-relevant content in most courses to honour and respect Indigenous knowledge and world views.
"It's very spiritually based – that's the indigenous way of thinking," says Marcella. "The spiritual component of our being is brought into the instruction. FNTI and Ryerson did an amazing job. It's very holistic and experiential. We do a lot of things in circle work, which is part of the Aboriginal model. It's taught me certain Indigenous paradigms. I've learned about my own culture at the same time."
Having been out of school for a long time, Guerin felt the FNTI program made her more current in her field as she learned new theories that have emerged. Although she used vacation time at work to complete her classroom studies, she says it didn't feel like work, and studying with Indigenous people from different nations was a helpful bonus.
"It creates a sense of community," Guerin said. "The relationships you build with your classmates makes you grow together."
In all, over 5,600 students graduated this year from Ryerson University. The 44  Indigenous students earned degrees from a variety of programs including midwifery, journalism, social work and aerospace engineering.
Ryerson's support of aboriginal students dates back to 20 years ago when Ryerson Aboriginal Student Services (RASS) was established. It began with only one employee – Monica McKay – who worked part-time and has now grown to include nine employees. RASS has become a home away from home for many aboriginal students on campus providing cultural, traditional, personal and academic support.