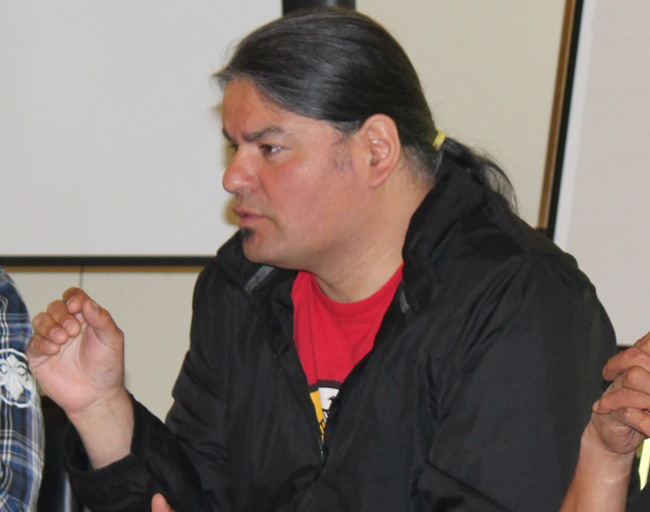 TORONTO – Serpent River Chief Isadore Day Wiindawtegowinini says that while he's appreciative of the provincial funding in the Ontario budget, it's the federal government that really needs to step up with permanent funding for First Nations Policing.
Chief Day says that his community, located on the North Shore of Lake Huron, has long desired to have a say about how police services will be deployed. He says that in the last five-year federal funding assisted his First Nation with two recruited officers but also says that his community had to negotiate a creative approach that left them with recruitment but no core funding for operations or capital. The Ontario commitment with Canada leaving the table, leaves the First Nation with a dilemma to figure out – how to ensure it has operations and capital resources.
"Community Safety is a critical aspect of the 'Quality of Life' for all communities, including First Nations," says Chief Day.
"Serpent River First Nation is much closer to achieving this and praises Ontario's Premier and her government for recent announcements within the 2013 provincial budget."
As quoted from Ontario's 2013 budget "Federal government support for policing through the Police Officers Recruitment Fund expired on March 31, 2013. The program provided annual funding of $31.4 million to support up to 329 police officers in communities across Ontario, including 40 First Nation police officers. As the federal government has not committed to extend this funding, the 2013 Budget provides additional annual funding of $4 million to continue to fund the 40 First Nation police officers hired under the Police Officers Recruitment Fund to ensure the safety of Ontario's First Nation communities.
The Province cannot step in every time the federal government decides to cut funding. To continue to ensure the safety of Ontario communities, the Province calls on the federal government to fully fund the police officers hired under the Police Officers Recruitment Fund and to make the funding permanent.
"Our concerns however, continue to be about underfunding the overall policing needs of First Nations," says Chief Day.  "While this investment helps use with recruitment, the operations and infrastructure continue to be the fundamental issue that governments must answer. The fact that Ontario has now stepped up doesn't mean that Canada should disappear from the fiscal scene. We need mandated policing in First Nations with fair and equitable funding models that are consistent with both provincial and federal policing – anything less is unacceptable."
Serpent River, and other First Nations in Ontario, will now begin talks with both Canada and Ontario to figure out how this new investment will be used and how to break the status quo that locks them in a situation without stable funding and a legal framework that keeps everyone committed.