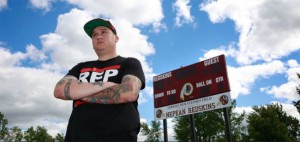 OTTAWA – An Ottawa man has filed a discrimination complaint with the Human Rights Tribunal of Ontario on behalf of his five-year-old daughter in an effort to get the Nepean Redskins Football Club to change its racially offensive name.
"The players call each other 'redskins' on the field," said Nipissing First Nation citizen Ian Campeau, musician and DJ. "How are they going to differentiate the playing field from the school yard? What's going to stop them from calling my daughter a redskin in the school yard? That's as offensive as using the n-word."
Mr. Campeau's Human Rights submission has won the support of Assembly of First Nations National Chief Shawn A-in-chut Atleo, and the Native Women's Association of Canada. He is asking the Human Rights Tribunal to order the National Capital Amateur Football Association, which fields teams at various age levels using the Redskins name, to change the name and logo, which includes a cartoon depiction of a Native man.
Assembly of First Nations National Chief Shawn A-in-chut Atleo said: "I support this action because the term 'redskins' is offensive and hurtful and completely inappropriate. First Nations are too often exposed to racism and discrimination and I do not want to see any young Indigenous child hurt because their peers use this term in the mistaken belief that it is acceptable. This complaint to the Human Rights Tribunal speaks to the broader need for greater public awareness, education and understanding about First Nations people and our shared history and priorities.  Our preference always is to work together to reach respectful outcomes and it is unfortunate that this step must be taken as a last resort. It is time to banish the term 'redskins.'"
Mr. Campeau is being supported in his submission by Barbara McIsaac and Qajaq Robinson of the national law firm Borden Ladner Gervais LLP (BLG) on a pro bono basis.
The filing also asks the Tribunal to direct the Human Rights Commission to draft a policy on the use of indigenous identities and imagery in sports. The National Collegiate Athletic Association, the governing body for college sports in the United States, banned the use of Native names and symbols nearly 10 years ago, except where a Native Nation has consented. The Seminole Nation, in the southeastern U.S., has allowed Florida State University to call its sports teams the Seminoles.
Mr. Campeau does not seek financial damages. He has proposed a five-year period to phase in a new name and logo. He has also offered to work with the Football Club on possible solutions, or to work with the Club and a mediator to settle the dispute, but the Club has not responded.
"I've offered to volunteer DJ and to help raise funds to offset costs, as have other artists and musicians, as the uniforms have to be replaced every year or two anyway," he said. "I've proposed many different options to change this offensive, hurtful and non-inclusive situation. It's marginalizing, dehumanizing and racial profiling. If my daughter wanted to play football, or even watch it, she wouldn't feel welcome."