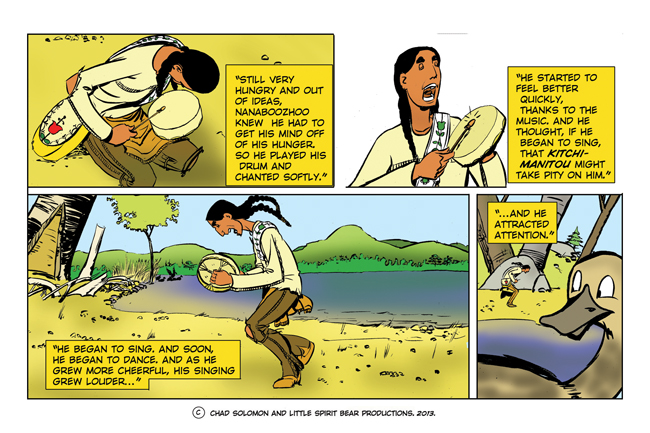 TORONTO – Anishinabek author and children's educator Chad Solomon has won the 2013 Children's Literature Award sponsored by the Elementary Federation Teachers of Ontario (EFTO).
"Rabbit and Bear Paws: Sacred Seven – Courage" – one of a series of comic graphic novels based  on Solomon's characters Rabbit and Bear Paws – was awarded the prize, which is awarded in recognition of the federation's views on social justice and equity.
In this new series, Rabbit and Bear Paws try to understand the Seven Grandfather Teachings from  Elder brothers and sisters: the animals Eagle, Bear, Buffalo, Beaver, Mouse, Kitch-sabe (Big Foot) and Turtle. In "Courage'  a mother bear and her cub are hungry, and Rabbit and Bear Paws learn about courage as they mimic the bear… and end up with ants in their pants.
"Raising awareness of the Seven Grandfather Teachings provides all students with an opportunity to understand aboriginal people, their teachings, and the relationship they have with the land," said ETFO President Sam Hammond. "Chad's work directly and beautifully embodies ETFO's commitment to equality and the celebration of diversity in our schools."
"As a young man, I would learn that my Nokomis went to a residential school and was not allowed to speak Anishinabemowin," says Chad Solomon. "This knowledge was part of the reason why I started my own publishing company, Little Spirit Bear Productions: so that one day I could create and publish books in Anishinabemowin.
"Finally, I was able to honour my Nokomis and Mishomis by fullfilling that dream with the creation of Anishinabemowin/ English dual language books called, Waboos miinawaa Mkwa Zidens,  Gchi-twaa Niizhwaaswi (Rabbit and Bear Paws, Sacred Seven)."
Each book is based on one of the Seven Grandfather Teachings and is in both Anishinabemowin and English. Plus each book includes an audio PDF, so when you click one of the English words on the PDF you can hear how the Anishinabemowin translation is pronounced. The Anishinabemowin used in the seven titles is the central version as was translated by James Shawana.
To view sample pages and to purchase the books. Visit our website at http://rabbitandbearpaws.storenvy.com/collections/208871-anishinabemowin-picture-books