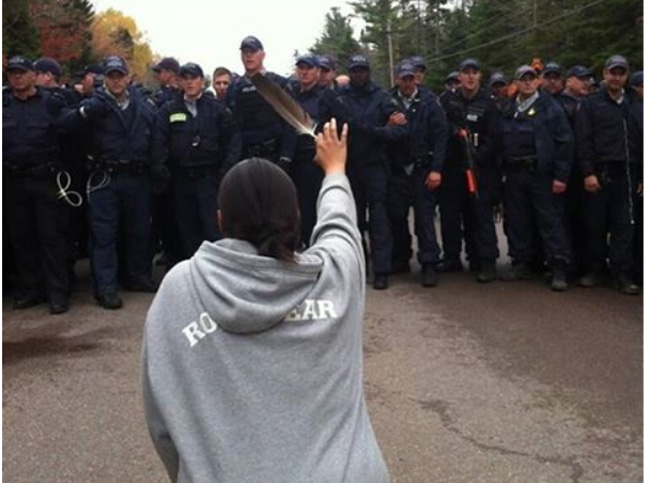 COAST SALISH TERRITORY/VANCOUVER, BC, Oct. 17, 2013 – The UBCIC Executive and the UBCIC Chiefs Council stand in full support with Elsipogtog community and leadership in their defence against fracking and shale gas development within their territories.
"This could easily happen in any First Nation community across Canada and in particular in British Columbia and today, we stand in complete solidarity with the Elsipogtog people to express our full support and continue our mutual fight against the devastating and destructive practices of resource exploration and extraction activities within our territories.  This display of brute force is completely ugly, outrageous and harkens back to the Oka, Ipperwash and Caledonia conflicts," stated Grand Chief Stewart Phillip, President of the UBCIC.
The Elsipogtog First Nation has been protesting energy company SWN Resources outside Rexton, New Brunswick. In spite of best efforts of Elsipogtog Chief and Council to resolve this issue peacefully, the heavily armed RCMP aggressively moved in today to enforce an injunction.
"Canada cannot continue to viciously cast aside our Aboriginal Title, Rights and Treaty Rights. In light of Dr. James Anaya's, UN Special Rapporteur on the rights of Indigenous Peoples, recent visit to Canada, this type of severe action by the RCMP reflects a government that continues to ignore Indigenous land rights – our human rights – to pretend it has a productive relationship with Indigenous peoples founded on reconciliation and respect" said Chief Bob Chamberlin, Vice-President of the UBCIC.
We await the call from the Elsipogtog for all Indigenous Peoples to mobilize and organize solidarity actions across the country.
SOURCE: Union of British Columbia Indian Chiefs
For further information:
Grand Chief Stewart Phillip, 250-490-5314
Chief Bob Chamberlin, 778-988-928