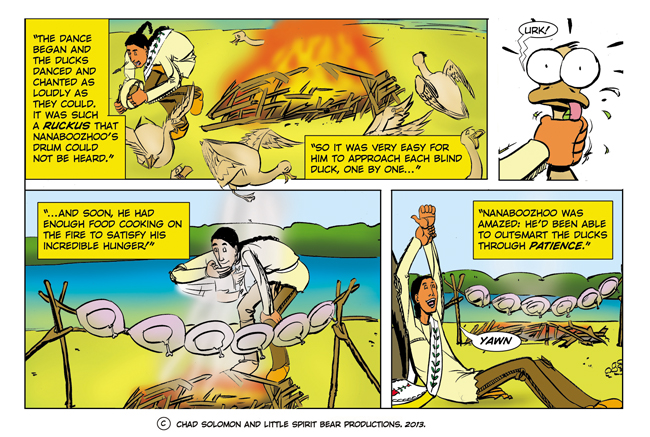 "Council of the Animals" – the sixth instalment in the popular Adventures of Rabbit and Bear Paws series – is now available.
Chad Solomon's graphic novel series for the young and the young at heart is based on the Seven Grandfather Teachings of Respect, Bravery, Love, Honesty, Humility, Wisdom and Truth, and is rapidly gaining enthusiastic fans for its vibrant and entertaining images of Anishinaabe traditions and oral history.
"It's a dog's life for me," Rabbit thinks as he's stuck doing chores while his dog Giibot enjoys the day. But things take a surprising turn when Rabbit sees his father, Grey Stone, secretly meeting with a gigantic bear. Grey Stone has been summoned as the first human to ever appear before the secret Council of the Animals. Rabbit, his brother Bear Paws and Strawberry sneak into the Council to make sure Grey Stone stays safe. There, they discover that the animals are deciding the fate of humankind once and for all! How will the fates of our beloved characters be sealed: by the unconditional love of a single dog, or in the fangs of the wolf?
Adventures of Rabbit and Bear Paws Vol. 6: Council of the Animals is based on the Grandfather Teaching of Truth (Debwewin). ISBN 978 -1-927508-29-9 Retail: $11.95 Can.
To see sample pages or to pre-order Adventures of Rabbit and Bear Paws Vol. 6: Council of the Animals visit  http://rabbitandbearpaws.storenvy.com/products/3660757-adventures-of-rabbit- and-bear-paws-council-of-the-animals
Little Spirit Bear Productions is the publisher of the Adventures of Rabbit and Bear Paws
series. For new comical adventures every week, visit us @  www.rabbitandbearpaws.com