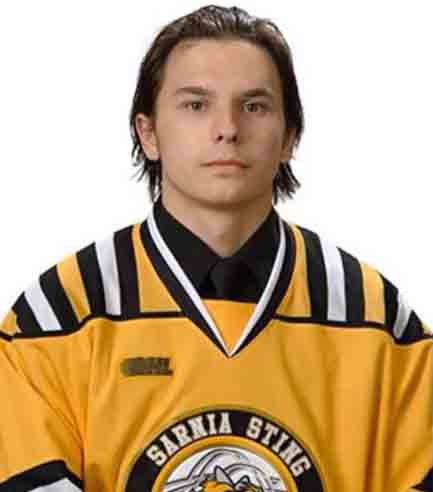 By Marci Becking
SARNIA – When Troy Lajeunesse, citizen of Dokis First Nation, laces up his skates tomorrow night in Sault Ste. Marie, it will be his first game in the OHL playing for the Sarnia Sting.
"Playing in the OHL is a dream come true for me, especially since I was overlooked in my draft year," says the 17-year-old centre who previously played for the Waterloo Siskins of the Greater Ontario Junior Hockey League.  "The scouts kept saying I was too small.  I didn't give up – worked harder, kept working out and playing hard."
Last year in junior 'B', Lajeunesse had a record of 16 goals and 18 assists in 29 games.  He says that the OHL is a lot harder, faster and the players are bigger and stronger.
"I was very excited to get signed with the Sting, but I was also stressed because I had to play my best in the exhibition games to prove that I could play at this level.  I guess they liked what they saw."
The rookie, who is the son of Renee Restoule and Mark Lajeunesse, says that this year's focus is to play hard and become a better player.   And it comes with some challenges.
"A challenge for me playing at this level is to finish my Grade 12," says Lajeunesse who will be wearing #9. "I had to change schools and move to a new city.  I'm looking forward to the season to start and travel to different cities.  It should be fun!"
For Dokis First Nation fans, the Sarnia Sting will be playing against the Battalion in North Bay on November 2.