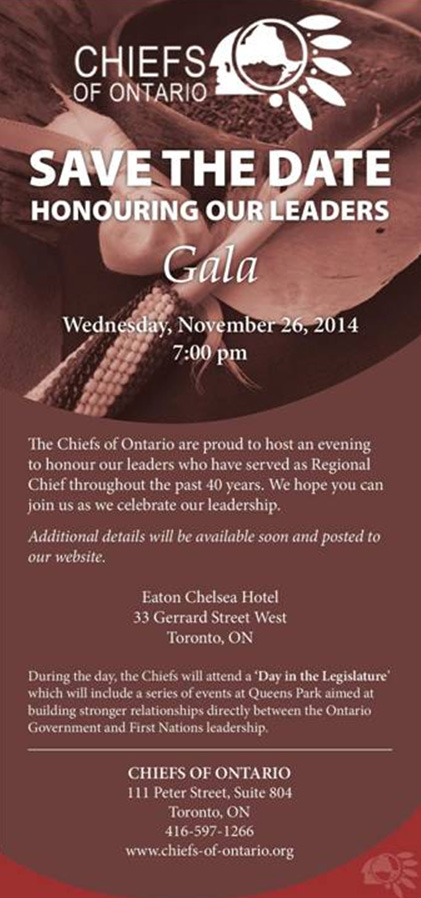 TORONTO – The Chiefs in Ontario will be honouring all seven former Ontario Regional Chiefs who have served our First Nations citizens in 133 First Nations over the past 40 years on November 26.  A gala will be held in Toronto and will be attended by chiefs, grand chiefs, corporate partners, Ontario Ministers and members of the legislature.
Former Ontario Regional Chiefs who will be celebrated that evening include: Peter Tobasonakwut Kelly (June 1982 – Spring 1983),  Patrick Madahbee (Spring 1983 to June 1983),  Wally McKay (June 1983 to 1985),  Gordon Peters (June 1985 to June 1997),  Tom Bressette (June 1997 to June 2000),  Charles Fox (June 2000 to June 2005),  Angus Toulouse (June 2005 to June 2012) and Stan Beardy (June 2012 to present).
As part of November 26 events, the chiefs will attend "A Day in the Legislature" which include a series of events over the course of the day aimed at building stronger relationships directly between the Government and First Nations leadership. This is as a vital step towards building better understandings and working relationships on our mutual priorities.
For more information on sponsorship, registration and attendance please contact Marla Monague marla@coo.org or (416) 597 1266 or toll free (877) 517-6527