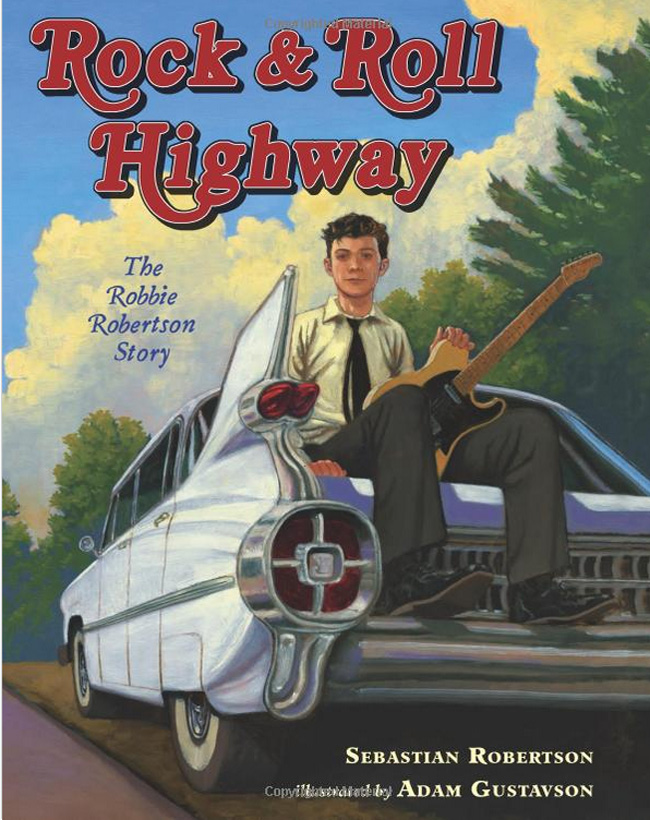 Review by Christine Smith McFarlane
"Rock and Roll Highway: The Robbie Robertson story" with its bright and colourful pictures is a non-fiction book geared to young pre-teens. It's a story that is inspired by Robertson's path to fame as portrayed by his son Sebastian Robertson, who is a musician himself.
Robertson, who was born in Toronto, Ontario, and an only child of a Mohawk mother and Jewish father grew up spending summers, holidays and many weekends at the Six Nation reserve where his mother had been born and raised.  It was here "that it all began; it was here where the rhythm, melodies and storytelling of Robbie's First Nations captured his imagination," and drew him into wanting to be a storyteller one day too.
With family encouragement, Robertson picked up his guitar and by the age of 12 surpassed the adults on his reserve as the "best guitarist".  He soon begins his own group Robbie and the Rhythm Chords and takes off from there.
Sebastian Robertson chronicles his father's musical journey in a way that is light and fun to read. At the end of the book, there is a chronological timeline of Robbie Robertson's life and a q and a of Sebastian interviewing his father about his career. This is a book that will inspire you to go after your dreams.
"Rock and Roll Highway" is doing very well on Amazon.ca-the book nabbed #1 spots in three children's books categories and an interview with Sebastian was published by the Rolling Stones Magazine.
Sebastian has a forthcoming book 'Legendary Chiefs,' that will be published by Tundra Books next year and he and his father are working together on another project, 'Hiawatha and the Peacemaker for Abrams.'
Rock and Roll Highway: The Robbie Robertson Story is published by Holt BYR and Christy Ottaviano, October 21, 2014, ISBN 978-0—8050-9473-2