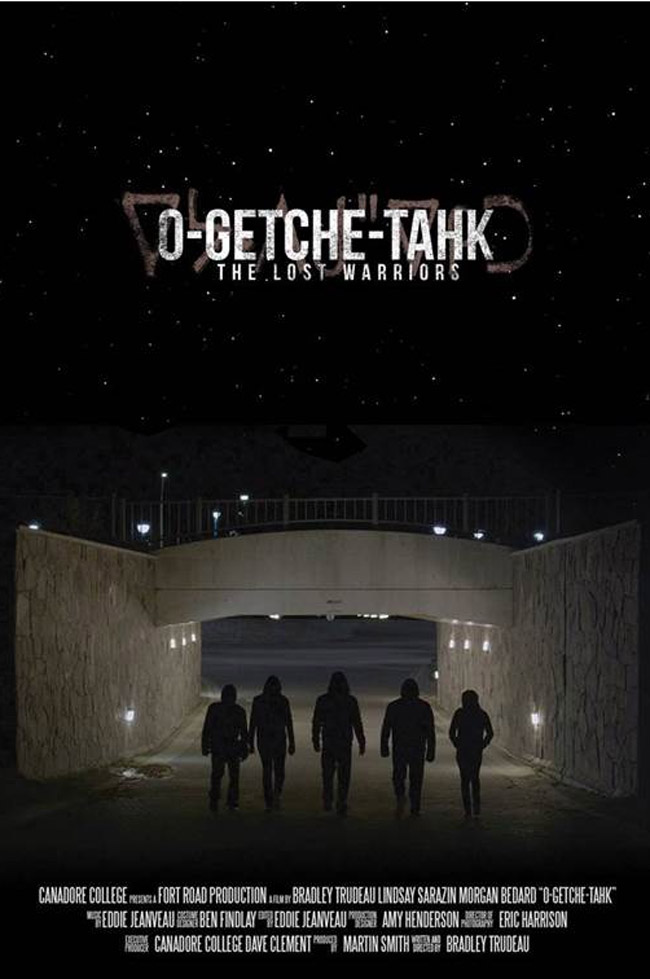 (NORTH BAY, ONT) – A Digital Cinematography student from Canadore College is being awarded the 2015 Student Award for Video – Long Drama or Comedy at the Broadcast Educators Association of Canada (BEAC) gala later this month.
Third-year student Bradly Trudeau wrote, directed and starred in the award-winning film O-Getche Tahk: The Lost Warriors, about a First Nations gang leader who attempts to redirect a group of orphaned misfits out of the violence of gang life only to find himself plunged into conflict with the head of a rival gang.
"I was excited on receiving the email from BEAC stating that I won," said Trudeau.  "This made me feel proud that all the hard work we put into this project finally paid off. This shows me that we have a future in this industry and if we always work a little harder we can achieve great things."
Trudeau said that although he came up with the concept, he also gives tremendous credit for the film's success to his classmates Martin M. Smith, Producer and Eric Harrison, Cinematographer. In fact, 25 third- year students and volunteer actors from the community worked on the production, including Canadore alumnus Lindsay Sarazin, who played the lead role of Washagesgonce in the 22 minute film.
"The third year of our program is designed to give students a feel of what it's really like to work in the industry," said Dave Clement, Mentoring Producer and Professor of Digital Cinematography at Canadore College. "One of only three scripts chosen for final year production, O-Getche-Tahk took eight days of pre-production, 14 late-night shoots and 45 days of editing, sound mixing, colour timing and graphics."
Clement says the film was recorded using the Red Epic in 5K which resulted in an amazing film that pulls no punches. He also says that beyond the camera, all the people, props, costumes, make-up, locations and logistics that go into making a film make this endeavor a really big accomplishment for the whole inaugural graduating Digital Cinematography class
The BEAC is dedicated to the professional development of faculty and administrators in radio, television, broadcast journalism and new media programs in provincially-accredited colleges and universities across Canada. As a part of its annual conference, it administers the BEAC National Awards program for students, recognizing broadcast and media industry leaders who contribute to broadcast education.
The student awards gala will be held at the Hilton Vancouver Metrotown in Burnaby, B.C. on May 29. O-Getche Tahk: The Lost Warriors is also being considered for a BEAC President's Prize Award, which will be announced that evening.
O-Getche Tahk: The Lost Warriors initially screened at Canadore College's first annual School of Media, Design and Dramatic Arts Showcase at North Bay's Capitol Centre in March 2015.