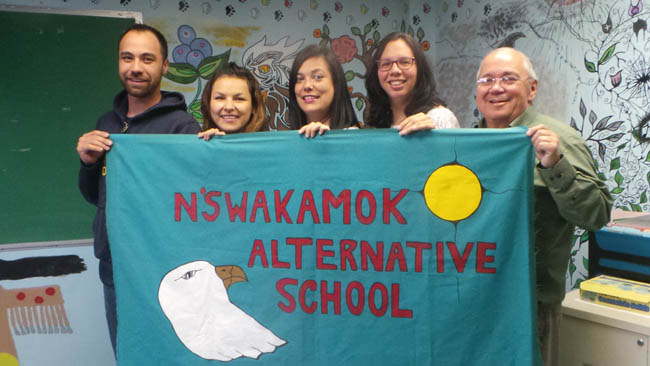 Staff, current and former students of N'Swakamok Native Alternative School are busily preparing to celebrate the twenty-fifth anniversary of the school on Saturday, June 13th.  Opening ceremonies, featuring  drumming and greetings from elders and former students, will take place at 11:00 a.m. at the N'Swakamok Native Friendship Center and activities, including lunch, will continue until 3:00 p.m. All former students, teachers and staff are invited to take this opportunity to visit displays, meet with friends, reminisce, renew relationships and honour the many successes of the school's students. To find out more or to register for the event, please contact Kelly Lee Assinewe assinek@rainbowschools.ca or 705 674 2128.
The N'Swakamok Native Alternative School is a unique partnership between the N'Swakamok Native Friendship Center and the Rainbow District School Board which offers a holistic and culturally inclusive program sensitive to the needs of adult Aboriginal, Metis and Inuit students as they work towards their secondary, post-secondary, career and personal goals.  Since its foundation in 1990, well over two thousand students have benefited from the school's programs, and many have gone on to graduate, pursue post-secondary qualifications, and enter the work force.
Students appreciate the relaxed atmosphere, individualized learning, co-operative education opportunities, flexibility, culturally based programming and the integration of traditional teachings offered by the school as well as its strong support systems and the ready access to programs such as the Healthy Babies, Employment and Housing programs offered by the Friendship Center. The achievements of the N'Swakamok Native Alternative School have been recognized by the Society for the Advancement of Excellence in Education.
Everyone associated with the school is encouraged to come out to the reunion to celebrate twenty-five years of success.