By Heidi Manitowabi, Community Liaison Specialist for the A/OFRC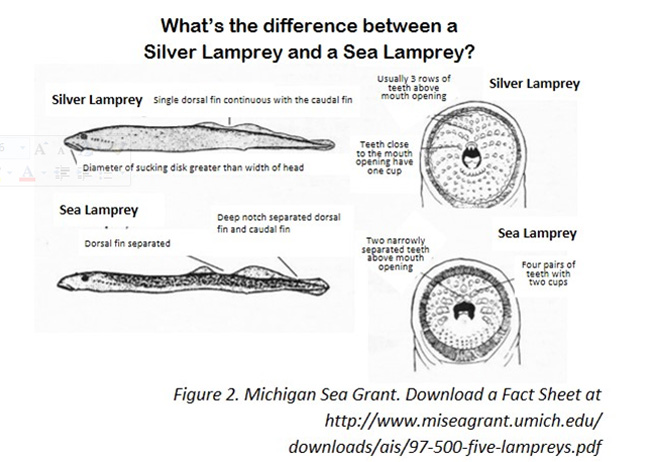 On Tuesday, May 19, 2015, The Anishinabek/Ontario Fisheries Resource Centre (A/OFRC) field crews caught a Silver Lamprey (Ichthyomyzon unicuspic) in the South River of Lake Nipissing, within the traditional territory of Nipissing First Nation during a Lake Sturgeon Larval Drift Assessment. The story was picked up by BayToday.ca, the original article can be read here.
The Anishinabek/Ontario Fisheries Resource Centre (A/OFRC) would like to inform readers of the Lamprey Caught article posted by BayToday.ca Staff on Wednesday, May 20, 2015 that the lamprey caught in the South River by Chapman's Landing on May 19, 2015 is a Silver Lamprey (Ichthyomyzon unicuspic). The Silver Lamprey is one of eleven species of lamprey in Canada and is listed as "Under Consideration" under Canada's Species At Risk Act, and as a "Special Concern" under COSEWIC (Committee on the Status of Endangered Wildlife in Canada). Silver Lampreys are a native species that inhabit the Great Lakes region. They are found in freshwaters of eastern North America, and have a range from extending from Manitoba to Tennessee in the west, and from Quebec to Vermont in the east. Silver Lamprey from the Great Lakes and Upper St. Lawrence population have been documented in 41 streams and nine lakes including Lake Ontario, Lake Huron, Lake Superior, Lake Erie, Lake St. Clair, Lake Nipissing, Lake Champlain, Lac St. Pierre and Lac St. Louis (Fisheries and Oceans Canada, 2012). See figure 1.
Silver Lamprey are not invasive to Lake Nipissing. Silver Lamprey's use their rasping tongue teeth and sucking mouths to parasitize a variety of fishes to feed on their blood. They pose no threat to humans (Holm et al, The ROM Field Guide to Freshwater Fishes of Ontario, 2010).
Silver Lamprey are protected and it is a federal offence to harm them – unlike Sea Lamprey (Petromyzon marinus), a similar looking species which is invasive and has played a significant role in the declining stocks of lake trout (Salvelinus namaycush), whitefish (Coregonus clupeaformis) and walleye (Sander vitreus) in the Great Lakes regions.
It is important to note that Silver Lamprey have evolved with native species in the area as part of the community with other species in the region. The Sea Lamprey, which is not native to the local ecosystem, has had devastating impacts to the fish species in the Great Lakes, and should not be compared to the native lamprey species.
The Silver Lamprey was caught in one of A/OFRC's drift nets, which is being used for a Lake Sturgeon Larval Drift Assessment.
The A/OFRC is a not-for-profit organization that serves as an independent source of information for communities within the Anishinabek Nation.  The Centre provides information and recommendations for sustainable fisheries management, reports of stock status, evaluates stresses on fish populations and habitats, and offers technical support.  For more information, you can contact us at 705-472-7888, email aofrc@aofrc.org, or visit our website www.aofrc.org.
A response was posted by BayToday.ca on Thursday, May 21, 2015. This story can be read here.