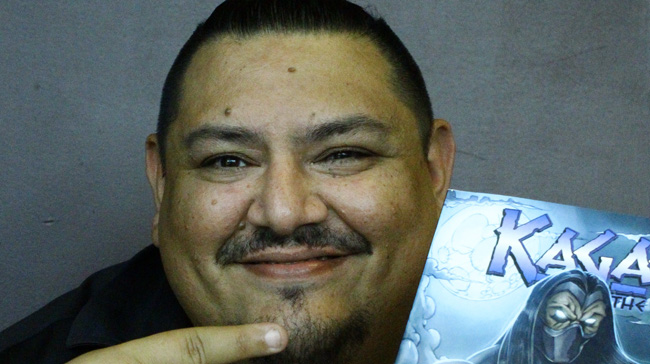 By Suzanne Keeptwo
Jay Odjick (Kitigan Zibi FN) is an animated storyteller – a superhero in his own right. His introduction to superheroes was due to unsold comic books a local store owner sold for 10 cents each, instead of discarding them. Spiderman, Superman, Batman were Jay's childhood heroes but, the Punisher was the one he could best relate to. It took a look at inner city life like what Jay was exposed to when living in Rochester, NY for the first five years of his life. "There was a murder right outside our door! The police outline of the body at the crime scene was just like in the movies." Jay exclaims. "That was one of the main reasons my dad decided to move back to the reserve."
According to his mother, Jay started plotting his own superhero stories when very young because his culture was not reflected in the comics he enjoyed. He remembers recognizing the credit box listing the creators of the illustrated action stories. "I realized that somebody did this and made a living at it." So, the young writer decided he would illustrate his stories as well.
Jay graduated from high school but band funding for college was cut when the roof caved in on his dwelling in the city. "Funding was not a lot and I was living in a really poor neighbourhood so, when the roof literally came crashing down, I became homeless and stopped going to school." But, Jay continued to do his own artwork in spite of being told art or comics was not a viable career path. He was the type of kid that accepted challenges, especially when told something would be difficult. "I took my craft seriously. I bought anatomy books and books about perspectives then, sat down and had to figure it all out. I studied the graphic artists I admired like Todd McFarlane and Allan Moore. I practiced how to draw the things I found most difficult, like hands and feet."
Trying to get work in the field of comics wasn't easy, especially as a First Nations artist. Eventually, a computer programming friend wanted help to create a comic on the web. Jay then learned a lot about web design and drew comics as a full time job for two years before he decided to start his own business. Once again, by looking at a sample business plan, Jay believed "if somebody else could do it, it was proof I could do it too." Jay took out a business loan to start a small publishing company to produce his own work.
Jay worked long, hard hours on the business during the day then worked on creating the comics late into the night. Destiny would have him sitting beside his current publisher (Arcana comics) while occupying booth space at a convention. "Put yourself in a position to make the magic happen" Jay says. Now with a professional publisher, Jay Odjick can focus on creating his art.
Kagagi, the Raven is now an APTN animated series, perhaps the first ever Canadian superhero show. It airs every Sunday at 10am in English then again at 12pm in Algonquin. And, because reading and comics gave so much to Jay as a kid, he created a graphic novel section of about 200 books at the Kitigan Zibi School library to encourage young indigenous kids to read.
Asked what his current projects are, Jay is quick to respond, "With X-men and Marvel movies being produced, I figured it was a matter of time before someone would do a First Nations hero-themed movie so, I thought, why not me?" Hence, Jay's foray into film production. "Don't be afraid to be the person to knock on the door. And kick the door down, if you have to! Because, what happens to that fear? You either chase after it or run from it". A superhero chases after it.