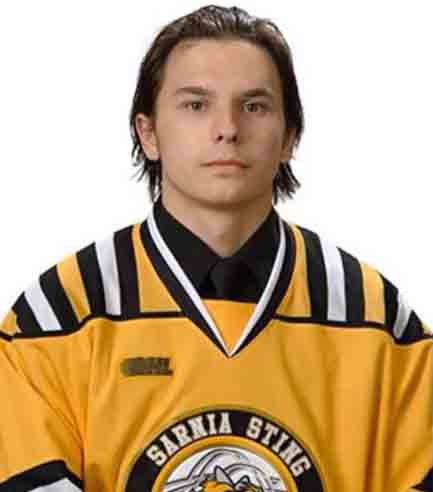 By Sam Laskaris
SUDBURY – Troy Lajeunesse picked a rather opportune time to register his first Ontario Hockey League hat trick.
The 18-year-old centre, from Dokis First Nation, scored three times for the Sarnia Sting as it defeated the host Sudbury Wolves 5-2 on Sunday afternoon.
Lajeunesse, who is in his sophomore season with the Sting, had his own boisterous cheering section – about 60 family members and friends – witness his hat trick performance.
"It was special having all of my family and friends there," Lajeunesse said. "And it was especially cool that my grandfather (Tiny) was able to be there. He doesn't usually come to my games. But I think he's one of my biggest fans."
It was rather tough to miss Lajeunesse's supporters on Sunday.
"They were all sitting together," he said. "They were louder than all of the Sudbury fans."
Lajeunesse opened the scoring in Sunday's contest with a goal just prior to the eight-minute mark of the first period. He scored again less than seven minutes later. Lajeunesse was able to score his third of the match late in the third period, at the 17:57 mark.  Sarnia defenceman Josh Jacobs fired a shot from the point and Lajeunesse, who had positioned himself in front of the Wolves' net, managed to deflect the shot with his stick past Wolves' netminder Troy Timpano.
"I didn't think it was going to go in," Lajeunesse said. "But it just trickled in over the goalie's shoulder."
Though he was able to record his first OHL hat trick on Sunday, Lajeunesse, a 5-foot-9, 160-pounder, said it was not his best game in the league thus far.  "I've played better games before," he said. "I think I just got lucky more than anything else in Sudbury."  Lajeunesse added he was not looking to score a few goals simply to impress family and friends who made the trek to the contest.
"I just wanted to have a good game because I had a tough time in North Bay," said Lajeunesse, who was not pleased with his own performance two days earlier in a 5-4 loss.
Lajeunesse collected 31 points (12 goals, 19 assists) in 64 games during his rookie season with the Sting. But he said he has not set any individual goals for the current campaign. "I think I'm just going to try and play my game," he said. "I'm not going to worry about how many points I get."
Lajeunesse had finished 11th in team scoring last season. Thanks to his three-goal effort on Sunday he is now averaging a point per game so far this year. And with his five points in five matches he is tied for the club lead in scoring.
Lajeunesse and his Sting teammates return to action on Friday night as Sarnia will host the Hamilton Bulldogs.