By Sam Laskaris
Reggie Leach can add another feat – accomplished writer – to his already impressive resume.
The former National Hockey League star has written his life story titled The Riverton Rifle, a book which is receiving numerous positive reviews.
The 65-year-old Leach, who is Ojibwe, grew up in the Manitoba village of Riverton. He's a member of the Berens River First Nation in Manitoba. But since 2007 he has lived in Aundeck Omni Kaning on Manitoulin Island.
"I believe the book is for all generations to read," said Leach, a member of the 1975 Stanley Cup champion Philadelphia Flyers. "It's a very easy reading book. It's for everybody."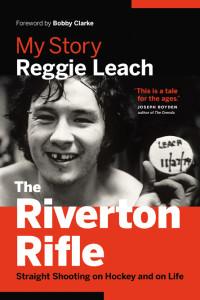 Leach has long wanted to get his entire life story into print. This desire started to take off three years ago when he met Rob Sanders, the publisher of Vancouver-based Greystone Books.
"If I don't like somebody I'm not going to work with them," Leach said. "But Rob was somebody I liked right away."
Leach then teamed up with Toronto-based Randi Druzin, who was the ghostwriter for The Riverton Rifle. Leach, often accompanied by his wife Dawn, spent about 16 months talking to Druzin, discussing all aspects of his life.
"It's not easy for me because I hold things in," Leach said. "Between her (Druzin) and my wife they pulled a lot of stories out of me."
The Riverton Rifle consists of 10 chapters. It begins with stories of how Leach's young unwed biological parents were unable to provide for him and how he was thus raised by his paternal grandparents.
His story continues to his junior days and into his pro career.  The book also includes a chapter called The Fall, on how his excessive drinking not only brought an end to his pro playing days but was also a major reason his first marriage fell apart. It is also why he ended up in a New Jersey rehab facility in 1985.
Leach, who has been sober for 30 years now, has successfully managed to rebuild his life.
He assists his son Jamie, who ended up winning the Stanley Cup twice with the Pittsburgh Penguins, with their hockey school titled Shoot To Score. The school, now in its ninth season of operation, is staged in various locations throughout Canada and the United States.
The elder Leach is also a motivational speaker. He is seen as a role model for Aboriginals as he frequently has talks telling them of how to make positive life choices.
Leach was keen to include all aspects of his life in The Riverton Rifle.
"I just thought it was very important to get my whole life in there," he said. "The NHL is just a small part of my life. I'm more proud of what I have done after hockey."
Leach is now touring Canada and the U.S., promoting his book. He's humbled people at some locations have waited two hours in line to get a book signed. "I'm pretty shocked all these people are coming out," he said. "I don't just sign the book. I take photos with people and we tell stories. It really is rather moving for me."
Personalized signed copies of The Riverton Rifle ($35 plus shipping) are available by contacting Leach directly at zreg27@yahoo.com or by sending him a message via Facebook through his page at www.facebook.com/reggie.leach.16