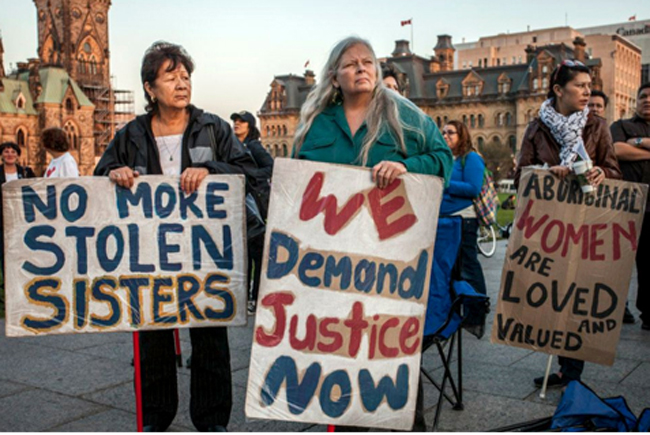 By Joey Krackle
In a Mandate Letter from Prime Minister Trudeau dated Nov. 13 to the Minister of Indigenous and Northern Affairs, Minster Bennett, Trudeau requested that she works towards initiating an inquiry into Murdered & Missing Indigenous Women (MMIW). The letter stated that she:
"develop in collaboration with the Minister of Justice, and supported by the Minister of the Status of Women, an approach to, and a mandate for, an inquiry into murdered and missing indigenous women and girls in Canada, including the identification of a lead minister."
Bennett has since affirmed the federal government commitment to holding an inquiry and emphasized that "we can get started now".
She emphasized the need to hold a pre-inquiry consultation and to engage soon with the Indigenous community and get their important input.
Anishinabek Nation Women's Council member Donna Debassige agrees.
"I am very pleased that the federal government is finally calling this long-awaited inquiry, and are seeking advice from our organizations and families," says Debassige.  "Our women and girls deserve to be respected and recognized for the important role they play.  They are our daughters, sisters, nieces, aunties and mothers and they deserve dignity, justice and respect.  Our bereaved families need answers and justice in order to have closure."
Minister Bennett says, "We need to listen to the families that were involved so we can get it right."
She hoped that the inquiry could begin by the summer of 2016 and said "we look forward to contributing to this truth seeking and initiative".
The Minister of INAC also stressed that this government is committing to taking action on the Truth & Reconciliation Commission (TRC) recommendations as a means to stopping this tragedy. During an interview with APTN on November 17, 2015, she pointed out that we need to act on mental health, housing, child welfare, and other issues frequently characterizing Aboriginal communities in Canada.
The Minister stressed the Trudeau government's commitment to renewing the relationship between Canada and indigenous people was of prime importance. Her mandate letter stated:
"Your overarching goal will be to renew the relationship between Canada and Indigenous peoples. The renewal must be a nation-to -nation relationship, based on recognition, rights, respect, cooperation and partnership. I expect you re-engage in a renewed nation-to-nation process with Indigenous peoples to make real progress on the issues most important to First Nations, the Métis Nation, and Inuit communities- issues like housing, employment, health and mental health care, community safety policing, child welfare, and education."