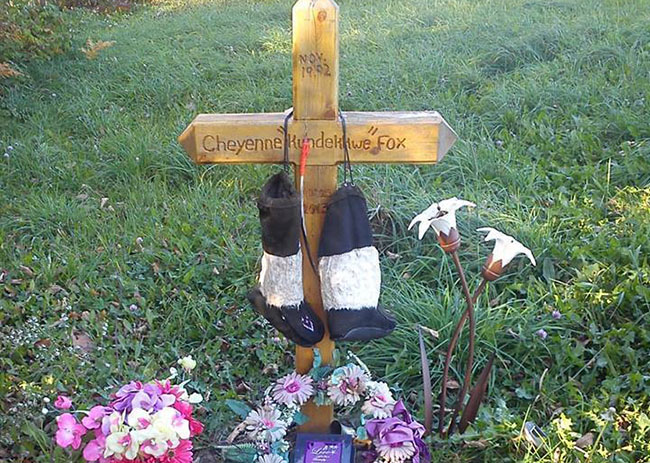 I thought about this lateral violence stuff and I think it is so widespread and prevalent that its a norm and accepted. The other day I was at a health centre and a big sign was posted at the door which read "Harassment policy" (was my first visit). Clearly, the Health Centre has been dealing with a lot of issues from internal or external harassment. I am sure extreme cases of lateral violence are out there.  Examples like calling CAS on families, sending police, gossip, assaults, threats. etc.
My own story, an extreme example of lateral violence. Most prevalent in native circles. Shame shame!
Ex 1.
"People told me that my daughter (Cheyenne Fox murdered in T.O) wasn't picked up at the Coroner's office because it was political. 2 drivers cancelled who were authorized. We had to bring my daughter in the back of a pick up truck. Then we were informed my reserve didn't have room for burial. We therefore buried my daughter at another reserve. (Yep political alright). At least we got my daughter back to her area".
Ex 2.
The Government has spent millions of dollars on the issue of anti-violence, healing and lateral violence awareness. In one community the Government committed a program called "flying on your own" and $$$$. (A voluntary self-help group process). Hundreds of community members took this five-day intensive program leaders included. Today, the community is no better off than it was when this flying on your own program was introduced. Everything went back to the same way it was-'lateral violence' but now you have more trained unhealthy people attacking each other and skilled to do so.
Ex 3.
Another example here is the 300 million dollar healing fund. That fund doesn't exist but what I find is the programs ear marked for the betterment of our community wasn't accepted. The anti-violence initiatives. So, I think our communities are in no way ready for any change. We are to dependent, ignorant and disrespectful to one another and we'll be guaranteed to raise our future generations this way. Unhealthy, substance abusers and poor self esteem with no identity. Yeah it's sad really but it is what it is.
John Fox
Wikwemikong