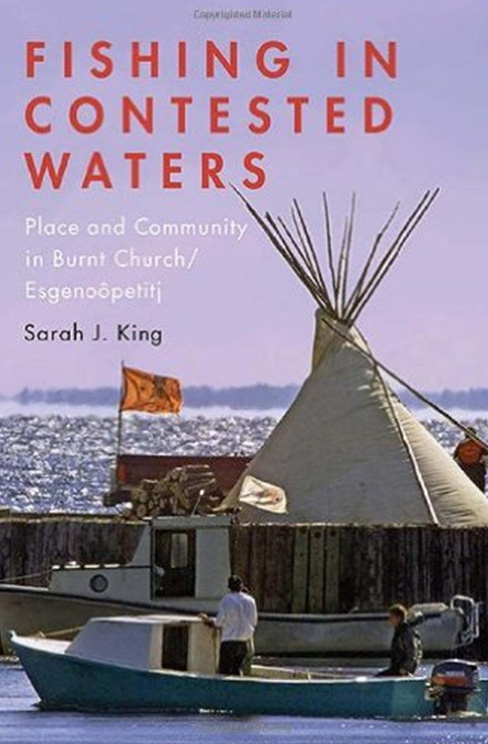 Reviewed by Nicole Latulippe
In Fishing In Contested Waters, Sarah King argues that the conflict at Burnt Church was "never really about fish". The violent dispute that erupted in the aftermath of the 1999 Marshall decision was about fish and competing sets of priorities, values, and histories held by Esgenoôpetitj First Nation and English Burnt Church.
For example, to the people of Esgenoôpetitj, the conflict was about upholding their treaty right to fish, both for economic opportunity and as a way to reclaim a Mi'kmaw way of life. For the English villagers, the conflict was about maintaining individual rights and securing livelihoods within a depressed economic region. But King – a scholar of religion, culture, and human relationships to the environment – moves beyond the material bases of the conflict, to analyze opposing beliefs and senses of place. Mi'kmaw sovereignty, rights, and community identity were central to renewed Mi'kmaq activism and sense of authority and belonging in their own territories, she writes. English Burnt Church, on the other hand, experienced the dispute as a threat to their sense of legitimacy, of being-at-home in a contested place, and identity as members of a mythologized Canadian state.
Why is this book important? For those in education and research, the book is a good example of respectful treatment by an outside researcher of difficult and contested perspectives. On environmental policy, King provides an interesting analysis of conservation as a construct that can be used to serve multiple interests. For example, conservation was employed by English Burnt Church to preserve the fishery as theirs, while federal agencies used it to legitimize authoritative, centralized decision-making.
The book will also resonate with experiences of the 'fishing wars' in Anishinaabe territories, including the Saugeen-Bruce Peninsula, Wisconsin, and Lake Nipissing. What King brings to the conversation is the importance of sense of place. When disputes are only "about fish", authoritative techno-scientific 'solutions', which often include violence, mask the needs of local people and leave them unmet. Ongoing processes of colonialism and settlement are left unchecked, and local tensions continue to fester and in some cases erupt. The pattern is repeated across Canada in myriad resource-related disputes.
King concludes with a call for change that would confront fundamental questions about the history and legitimacy of Canada as a colonial state. The section could have been further developed, but she does suggest a renewal of relationships established with the early peace and friendship treaties, particularly salient in the region under study. For King, place matters, in deeply relational, problematic ways.
King, Sarah. 2014. Fishing In Contested Waters. Place and Community in Burnt Church/Esgenoôpetitj. Toronto: University of Toronto Press.