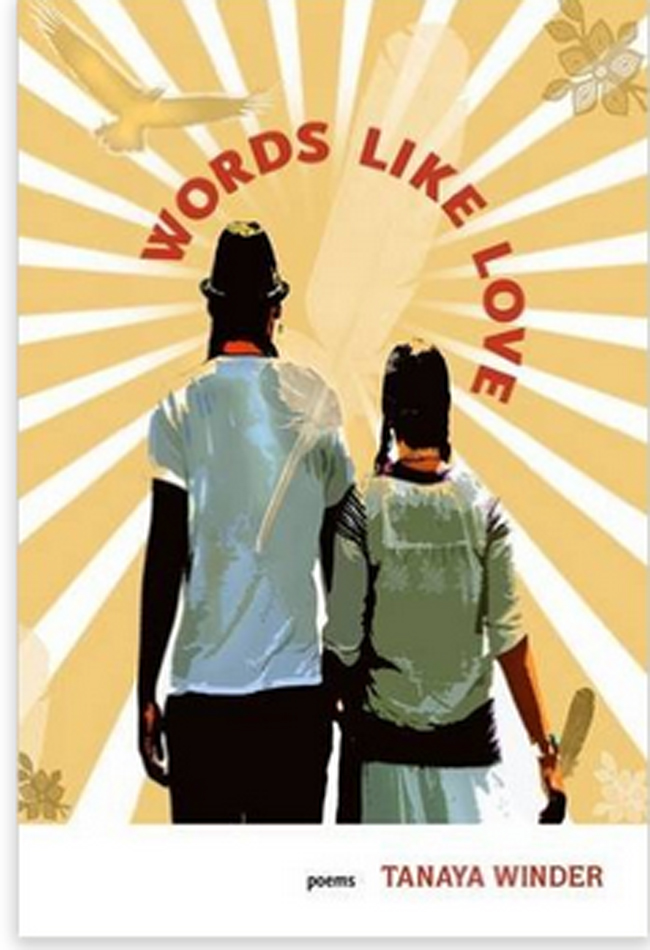 Reviewed  by Shirley Honyust/ Yenatli:yo
"I write this without breaking my heart" follows the introduction to every section of poems penned by Tanaya Winder. The reader, on the other hand, may want to have a box of tissues within close reach, since this stirring poetry is certain to pull at a few strands of the cardiovascular network.
Winder is a writer, poet, educator and motivational speaker from the Southern Ute, Duckwater Shoshone and Pyramid Lake Paiute Nations. Winder visited Western University in London Ontario (where her sister Nahtanee is a working on her PhD), in the second semester of the 2015-16 academic year, promoting "Words Like Love".
In 2010 her poem, "The Impermanence of Human Sculptures" won the AROHO (A Room of Her Own) Orlando Prize and this poem is included in the many selections included in her first book, "Words Like Love".  (AROHO's mission is to inspire, fund, and champion works of art and literature by women. AROHO has channeled more than 1,000,000 publicly gifted dollars into new awards, fellowships, and life-changing opportunities for women.) Researching this book online, another review captures this quote from Winder, "On April 12, 2007, almost exactly 3 years before the email announcing I'd won the AROHO Orlando Prize for poetry showed up in my inbox, I found out my best friend had taken his own life."
"Lessons in Frailty", the opening section, speaks of her early years, the stories and lessons she learned in that part of her life journey and the influence those teachings had on her in later stages.
"Language Less Learning" gives words to those concepts that have difficulty making the transition from the essence of her native language to giving them voice in English. In the words of the author, "My daughter, I wish I could write a poem in my native language. But grandmother, the last one who speaks it, doesn't know how to write it, and here I sit not knowing how to type in anything other than English."
The phrase "words like love" shows up on page 60, between the poems "love in a time of blood quantum" and "when angels speak of love I'm pretty sure they didn't mean".
The last two sections, "Forbidden Acts" and "The Order of Things" give play to private moments that reflect both interpersonal and intrapersonal relationships, within the physical, emotional and spiritual realm. Men, women and children are born into and torn between cultures not of their making, and at times will exchange one realm for the next.
This book is an easy read from cover to cover, where pages turn almost of their own volition, and it is one that will surely be read many times, as the reflection of life and life's journey can be found in every segment. It can easily make a valuable contribution to any syllabus in a course for Indigenous Authors or Indigenous Literature.
Words Like Love, By Tanaya Winder, Cover Art by Angela Sterritt, Published by West End Press, Albuquerque, New Mexico (September 2015)Paperback ISBN: 978-09910742-7-3 96 pages