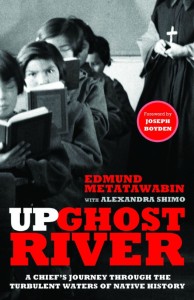 Reviewed by Christine Smith McFarlane
The memoir transports the reader to 1955 where a young seven-year old, Edmund Metatawabin, is separated from his family and relocated to a residential school in Northern Ontario: St. Anne's. This school is notorious for being one of the worst residential schools in Canada. Edmund Metatawabin, together with journalist Alexandra Shimo, tell the unsettling, heart wrenching story of survival, resilience, and recovery in UpGhost River as recalled by Edmund.
Metatawabin pens the details of the atrocious abuses he, his friends, and classmates endured at St. Anne's, in particular at the hand of Sister Wesley. She quickly becomes the lead antagonist as he recalls the abuses he was subjected to, though that is not to say others did not partake in such unimaginable acts. Other abusers include but not limited to: Brother Goulet, who chose to abuse the children by way of the electric chair; Brother Jutras, who would fondle the young boys' genitals; and, Mike Parko, who was not on the faculty at St. Anne's but a manager at a local store who feigned sympathy for Metatawabin during his times of turmoil, revealed his innermost desires and motives by repeatedly raping young Edmund. The details of the malicious physical, sexual, and psychological abuses are upsetting and difficult to read, but provide insight into the effect his experience at St. Anne's had on his overall mental state and how and why it affected his life beyond St. Anne's.
The narrative shifts focus from life in residential school to life after St. Anne's for Edmund. After leaving St. Anne's residential school, he is placed in a foster home along with other classmates where living conditions provide for a better living experience and a glimmer of hope for the future. He fulfills his dream of becoming a teacher, goes on to marry, and grows a family-all of the makings of a happy ending. That notion of hope quickly dissipates when the reader learns of one troublesome incident where Edmund and his friends experimented with alcohol which spurred his battle with alcoholism-changing the direction and journey for Metatawabin. He proceeds on a destructive journey when life's traumas prove to be too difficult to manage on his own and turns to alcohol as a coping mechanism which only affects his marriage and relationship with his children.
Struggling personally and professionally, Metatawabin first tries conventional healing through AA meetings and rehab, but it only furthers his confusion. After speaking to friends, he finds healing by reconnecting with his Cree culture and connecting to the ways of the Red Road (Sobriety). He travels across Canada to Edmonton where he participates in culturally specific teachings, ceremonies and healing circles.
Metatawabin, through his own resilience, recovered from his trauma and personal battles and has since worked tirelessly to expose the wrongdoings of St. Anne's Residential School, and comes full circle in his healing, by showing in his memoir that it is possible to come through anything. His narrative is haunting, but also brave, eloquent, and uplifting; a must read if you need inspiration yourself.
UpGhost River by Edmund Metatawabin with Alexandra Shimo; Vintage Canada (2015); 352 pages, softcover; ISBN-13: 978-0-307-39988-5