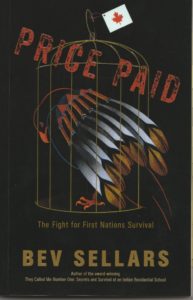 Submitted by Karl Hele
Bev Sellars brings us another marvelous book drawing on her and her people's experiences with Indian policy since the beginning. While her first book, They Called Me Number One, explored the generational impact of residential schools on her family, Price Paid nicely explores generational resistance to and the impact of colonialism on her family, nation, and other Indigenous peoples in Canada. Although Sellars keeps the focus on repression, she deftly weaves into her narrative discussions various examples of resistance to Indian policy. She also nicely illustrates the ludicrous nature of Indian policies. For instance, Sellars notes that the pass system in British Columbia often required people to travel hundreds of kilometres to the Indian Agent's office just to obtain a piece of paper that legally allowed them to cross a short distance of a few kilometers or less to shop in the nearby white village. Rather than detailing policy excruciatingly, I liked how Sellars spent more time exploring the affects of and resistance to colonial laws and policies. This makes the book easily readable and relatable.
Sellars also looks at why Indian laws and policies were regularly altered due to Indigenous resistance and government fears. She claims that Indian Agents were elevated to the role of magistrate to keep settler populations unaware of what was taking place on reserves, as well as to prevent access to British Common Law (70, 74). In preventing access to common law courts, Indian Affairs and the government of Canada avoided awkward situations whereby Indian Act law could be rendered invalid and be seen as a violation of people's rights. Additionally, changes to the Indian Act such as the bar on hiring lawyers (1927) and the bar on regularly accessing pool halls (1930) shifted charges from Indians to whites. This led to lawyers either working for free or going to jail. Not wanting to be fined, pool hall owners simply banned Indians from their premises (85). Both actions helped further racial segregation and ignorance about what Canada was doing. Sellars even suggests that the federal franchise extended to Indians in 1960 was undertaken by Canada to avoid appearing before international courts on charges of genocide for its residential school policies. Apparently, by allowing Indians to vote, the residential school question became one of an 'internal' nature (195). Nonetheless, each of these tales that illustrate the self-serving nature of Canada's government has a matching story of Indigenous resistance and resilience.
By weaving her and her nation's story throughout the book, one gains a quick appreciation of how the Indian Act and other policies affected First Nations as well as how our indomitable spirits continue to fight for our rights. Additionally, while dealing with horrendous aspects of Canadian colonialism, this book does not leave one depressed or saddened. Instead, the book leaves the reader with the knowledge that despite Canada's dark past and present, our stories have a resilience that needs to be told. It also reminds readers that despite Canada's best efforts, Indigenous people remain. As Sellars notes, in almost every chapter, no Canadian would tolerate these impositions on personal liberties and freedoms, yet for generations they remained ignorant of these impositions on Indigenous people. Nevertheless, she calls on settlers learning about Canada's oppression of 'Indians' to take this knowledge and do something rather than be frozen with guilt. For one is only truly guilty, according to Sellars, if one fails to act on known information in a positive way.
For Indigenous people reading this book, you will learn about Canada's colonial policies and a peoples' fight against them. For students, Indigenous and Non-Indigenous, you will learn about Indigenous resilience and resistance as well as Canada's colonial past and present. Overall, any reader will learn more about Indigenous-newcomer relations which will only help heal generational and racial divisions within Canada. By knowing the full history, according to Sellars, Canadians will be able to come to terms with themselves and Indigenous peoples.
Bev Sellars, Price Paid: The Fight for First Nations Survival. Vancouver: Talon Books, 2016.