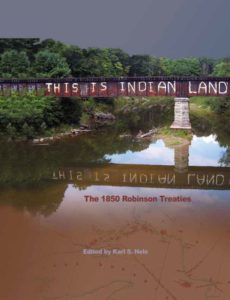 By Karl Hele
Drawing inspiration and its title from Garden River's CP Rail Bridge with its message "THIS IS INDIAN LAND", the book seeks to explore different outcomes of the 1850 Robinson Treaties.
While the sign may literally rest on Indian land, it speaks to the reality often forgotten by mainstream society that it exists on lands currently or once owned by various First Nations. This collection of articles about the 1850 treaties seeks to remind and engage people in a conversation about the lands and waters they share.
Contributors are Karl Hele, David McNab, Rhonda Telford, Victor Lytwyn, Peter Krats, David Calverley, Karen Travers, Margot Francis, and Stephanie Pyne.
The work begins with an introduction to the book and the various literature about the 1850 treaties followed by a chapter that offers a brief contextualization of the treaties. This is followed by articles about harvesting rights, Teme-Augama Anishinabai land rights, the 1850 treaties as international documents, reserve reductions, Shawanaga as a case study of leagues versus miles surveying, the struggle for water rights, Whitefish island over three generations as a case study, and how the Hudson's Bay Company took land from the Anishinawbek at LaCloche, how modern mapping enables greater exploration of the treaties, and how performance affects treaty memory.
Following the articles is an appendix containing six key documents – the treaties, the 1849 petition, a newspaper article about the 1849 commission, Benjamin Robinson's treaty report, and an Anishinaabeg petition from 1851. It is hoped that the conversations sparked by the articles and documents as well as the knowledge shared will contribute to increased awareness of treaty and treaty issues along the North Shore of Lakes Huron and Superior as well as encourage others to pursue and publish further studies of the 1850 Robinson-Huron and Robinson-Superior Treaty.
Copies of the book are available from Aboriginal Issues Press, http://www.umanitoba.ca/environment/aboriginal_issues_press.html
Profits from the sale of this book are used to support the Aboriginal Issues Press scholarship at the University of Manitoba.