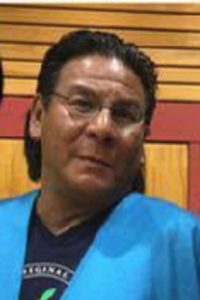 TORONTO, ON (January 5, 2017)–It is with profound sadness that we announce the passing of Tony Nobis, Executive Director of the Ontario Aboriginal HIV/AIDS Strategy, to the Spirit World.
Tony was born in Nipigon, Ontario, and is a member of the Biinjitiwabik Zaaging Anishnabek First Nation (formerly known as Rocky Bay Reserve).  At the helm of Oahas since January 27, 2014, Tony was a tireless worker for the AIDS movement, and specifically the Aboriginal AIDS movement since the 1990's.
Tony was also an integral part of the Two-Spirit community as Volunteer Coordinator for Two-Spirits of the First Nations for six years. He was an inspiration to many, as he was an openly two-spirit Aboriginal Person living with HIV.
He is also well known to Toronto's Native community as an advocate, colleague, friend and mentor. In these roles and others, Tony has inspired our community in ways that will be felt for many years.
Though we mourn, we at Oahas invite you to join us honoring and celebrating the life and invaluable contribution Tony Nobis has made to our community, in Toronto and nationwide.
Condolences and messages of support can be forwarded to the Oahas head office at 7 Hayden Street, Suite 201, Toronto, ON, telephone 416-944-9481 ext 222.