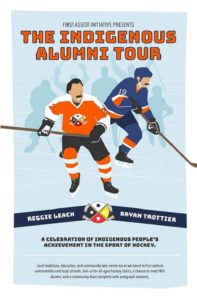 By Sam Laskaris
WIKWEMIKONG FIRST NATION—Several former Indigenous hockey players who were in the National Hockey League (NHL) will be among those participating in a charity match this Saturday, January 28, in Wikwemkiong First Nation.
Members of the Wikwemikong council will join members of the NHL Indigenous Alumni squad to form a team. They will face off against a club comprised of members from the Wikwemikong Tribal Police Service and the United Chiefs and Council of Manitoulin Police Services.
Puck drop is scheduled for 8:30 p.m. at the Wikwemikong Thunderbird ("Thunderdome") Arena.
"There's a lot of excitement right now," said Lawrence Enosse, a member of the Wikwemikong council who will suit up alongside the former NHLers. "Everybody is excited to see some hockey."
Reggie Leach, a member of the 1975 Stanley Cup champion Philadelphia Flyers, will be among those former pros taking part in the match.
Leach currently lives on the nearby Aundeck Omni Kaning First Nation on Manitoulin Island.
Leach's son Jamie, who also made it to the NHL and was a member of the Pittsburgh Penguins when they captured back-to-back Stanley Cup titles in 1991 and '92, will also be participating.
Others expected to suit up for the alumni side include seven-time Stanley Cup champion Bryan Trottier, Brandon Nolan, Denny Lambert, Dan Frawley, Arron Asham, and John Chabot.
Ric Nattress, who is not Indigenous, but played 603 NHL matches, winning a Stanley Cup with the Calgary Flames in 1989, will also suit up for the Indigenous alumni squad.
The game in Wikwemikong is being organized by Chabot's First Assist Initiative, a non-profit organization which aims to advance professional achievement and education of Indigenous youth.
Proceeds from the match will go to Wikwemikong's youth hockey association.
Enosse, who has been a member of the Wikwemikong council since 2010, said discussions for a charity match on the First Nation arose after Chabot visited Wikwemikong in 2015 to run a hockey school as part of the Right to Play program.
Enosse is hoping for a large turnout on Saturday.
"We're a hockey town," he said. "We're expecting a big crowd. We're hoping to fill the arena."
Capacity at the Wikwemikong rink is about 600.
Enosse is confident the former pros will provide plenty of entertainment.
"They all had good careers," he said. "And they are all still in excellent shape."
Tickets for the match cost $10 per person for those 18 and over. Elders and those younger than 18 will be admitted for free.
VIP tickets, which include a meet and greet session before the game with all of the former pros, are $15.
Enosse himself is most interested in playing with one particular player he has admired.
"I'm really looking forward to meeting Arron Asham," he said.
Asham played for six different NHL franchises from 1998 through 2014. He was never the flashiest player, but appeared in 861 NHL contests, earning praise for his hard-nosed approached to the game.
"I think a lot of people respect those hard-working players," Enosse said.
The contest will be part of Wikwemikong's Annual Wiikwemikoong Winter Fun Day. Festivities will also include clinics run by the former pros for local Tyke, Pre-Novice and Atom players.