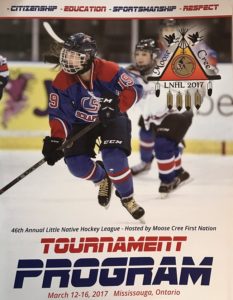 MISSISSAUGA, ON  (March 15, 2017) – Anishinabek Nation Grand Council Chief Patrick Madahbee congratulates host community for the Little NHL –  Moose Cree First Nation and the organizers, volunteers, LNHL executive and the many teams who participated.
"This has been a record-breaking year with 203 teams registered to play in this event," says Grand Council Chief Madahbee.  "I commend the host community Moose Cree First Nation and all the folks who made this Little NHL a successful event yet again.  It is so great to see the participation of the communities and the teams come out year after year."
The Little NHL event – which is in its 46th year – is about respect, education, citizen and sportsmanship.