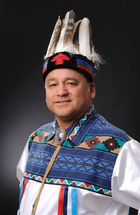 By Rick Garrick
TORONTO – Anishinabek Nation Grand Council Chief Patrick Madahbee recently joined the board of Cancer Care Ontario after losing his mother, sister and a former spouse to cancer.
"Obviously, it hits home and then you see the prevalence of cancer-related deaths in all of the communities that I attend to," says Madahbee, who was appointed to the board in March by the Ontario government. "It's crucial that we try to find ways to address it, particularly with screening and prevention. I'm one of these kind of guys that tends to just take a positive look and seeing if I can do something to help out."
Madahbee is looking to bring a First Nations perspective to the Cancer Care Ontario board, which includes 13 other board members, none of whom are First Nations people.
"It is important that I can at least bring some knowledge from the First Nations perspectives of the issues that we are facing," Madahbee says. "I'm not there solely just to address First Nation issues only; I'm there to look at all issues affecting anybody in Ontario."
Madahbee says Cancer Care Ontario representatives approached him to sit on the board due to his experience in health issues — he currently holds the health portfolio at the Chiefs of Ontario and is a member of the Assembly of First Nations health committee.
"(Cancer) is a serious disease," Madahbee says. "They are coming up with more and more advances in cancer treatment, but I think the prevalence of cancer can be mitigated to a certain extent by early detection and early screening."
The Cancer Care Ontario board is responsible for directing all policy making in the organization, ensuring the organization is doing its job according to its agreement with the government, and approving its strategic plan and annual operating plans.
"We have a skills-based board, so we have a board of directors who bring various experiences and expertise to make sure they are able to provide the support and guidance for staff in the organization with respect to monitoring our plans and progress," says Michael Sherar, president and CEO of Cancer Care Ontario. "We are delighted to have (Madahbee) on the board — we think he is going to contribute strongly to our governance and oversight of our work."
Sherar stressed the value of Madahbee's experience in variety of First Nation leadership roles and business roles over the years. Madahbee is currently serving his fourth term as Grand Council Chief. His previous roles include 17 years as chief of Aundeck Omni Kaning, manager of Aboriginal Financial Services for TD, regional sales manager for First Nations Bank of Canada and numerous other positions.
"Patrick brings tremendous expertise and experience," Sherar says. "He will bring that experience and expertise to bear on looking at our plans for not only the cancer system in Ontario, but we (also) oversee the renal care system. And we provide a set of other functions for the health system in Ontario."
Sherar adds that Cancer Care Ontario has a specific strategy for First Nations, Inuit and Métis communities — the Aboriginal Cancer Strategy.
"We've recognized that the initiatives, the solutions how we work together with those communities needs some specific effort on our part as an organization in partnership with those communities across Ontario to make sure that our health system is designed and delivered in a way that works well for those communities," Sherar says.
Cancer Care Ontario's Aboriginal Cancer Strategy is available online at: www.cancercare.on.ca/common/pages/UserFile.aspx?fileId=345455.