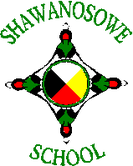 Full-Time
Required: August 28, 2017-2018
Summary:
The Anishinabe Language & Culture Teacher will be a team player responsible for providing teaching instruction focused on Anishinabe language and culture in all grade levels within Shawanosowe School. This teaching position is unique and integral to instilling cultural relevancy within the school environment. The students' ability to speak, write, and read the Anishinabe language and make cultural connections to traditions is strengthened by the instruction associated with this role within the school.
Primary Responsibilities:
Provide a foundation of knowledge and skills in the Anishinabe language that will enable students to communicate in Anishinabe.
Provide cultural teachings and land base learning and hands on activities through storytelling, songs, and art and excursions.
Organize cultural events, guest speakers for the school.
To inspire students to develop pride in their ancestral language and motivate them to use it in communicating in their daily lives.
Develop lesson plans, long range plans and differentiate instructional lessons for all students K-6.
Assist in development of Anishinabe Language / Culture Curriculum for Maamwe Kendaasing Child Care Centre children and Staff and each Shawanosowe School Grade JK, SK, 1, 2, 3, 4, 5, 6, and Staff.
Perform assessments and develop oral competency level.
Provide excellent classroom management, interact with staff and community.
Qualifications and Skills Required:
Fluent in Anishinabe language.
Anishinabe Culture knowledge and experience.
Valid Ontario College of Teacher's Certification and/or Native Language Certification with Experience.
QECO Rating
Provide satisfactory Vulnerable Sector screening.
An understanding of theories and methodologies for teaching Native Language and the ability to apply these to practice.
Knowledge and experience in smart board, I-pad technology, apps and other technologies.
Applicants may send their Cover Letter, Resume, 3 Professional References (from prior supervisors) and supporting qualification documents by mail, or fax or email by: 4:00pm Friday June 23, 2017
Mail;
Attention: Cheryl Miller-Martin, Principal
Shawanosowe School, PO Box 208
Birch Island, Ontario, P0P 1A0
Fax: 705-285-1314
Email: principal@shawanosowe.ca