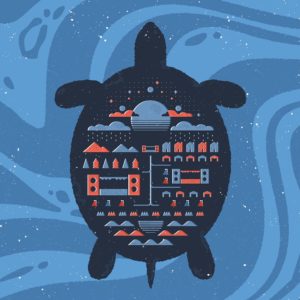 By Heather Campbell
SUDBURY—A diverse line-up of Indigenous musicians and artists are coming from across Turtle Island to the 2017 Northern Lights Festival Boreal being held on July 6 to 9, at Bell Park in Sudbury.
Special attention was put to gathering together a diverse contemporary list of musicians and artists starting with the iconic Buffy Sainte-Marie who is the headliner on opening night of the festival. Sainte-Marie played the festival over 30 years ago, and is now one of the most influential musicians of our time.
"This line-up focuses on the diversity of Indigenous artists," says Max Merrifield, Executive and Artistic Director for the festival.
Another multi-award-winning poet and musician, Joy Harjo, is coming north from Oklahoma. Harjo is a member of the Muscogee Nation who has seven books of poetry and five award-winning-albums including a Native American Music Award for best female artist of the year in 2009.
Deanna Nebenionquit, board member of the Northern Lights Festival Boreal, says the opening night with Saint-Marie and Harjo is going to be a special show unto itself.
"There will be video elements, poetry and other arts involved," added Nebenionquit.
The lineup for Thursday night also includes local drum group, Black Bull Moose Singers, Ansley Simpson, Jerry Cans and 2017 Juno award winner Quantum Tangle. Grey Gritt and Tiffany Ayalik of Quantum Tangle, are coming south from Northwest Territories with their blended background, combining their talents of throat singing, haunting melodies, and traditional legends. Ayalik is described as a charismatic storyteller and Inuit throat-singing, Gritt infuses their songs with soulful Métis blues. The result is hypnotic, evocative, and intriguing.
No Reservations is hitting the stage for an exclusive reunion on Thursday night as well. They formed in 1995, writing original music at the N'Swakamok Native Friendship Centre in Sudbury. Their second album, Hollywood Indian, earned them a nomination for Best Rock Group at the inaugural Aboriginal Music Awards, held in Toronto.
On Friday, July 7, you can catch a performance by Bryden Gwiss Kiwenzie, who has ties to Wikwemikong First Nation, Cape Croker First Nation and Indian Brook, Nova Scotia, and grew up on the pow wow trail. His album Round Dance & Beats (Pow Wow) was nominated for Indigenous Music Album of the Year at the 2017 Juno Awards. Kiwenzie is described as blending crisp hip-hop production with traditional pow wow singing and drumming. He is part of the new generation of Indigenous artists exploring the fusion of traditional and electronic music.
Saturday night headliners are the popular A Tribe Called Red, made up of DJ NDN, Bear Witness and 2oolman, and described as part of a vital new generation of artists making a cultural and social impact in Canada. The first voice you hear on their third album, We Are The Halluci Nation, is Native American activist, poet and musician, John Trudell.
Other performers include Leonard Sumner, Little Saskatchewan First Nation, Manitoba, Nick Sherman, Sioux Lookout and Rabbit & Bear Paws.
Merrifield and Nebenionquit promise that the festival will be an experience of some very interesting music by putting together artists you might not otherwise expect to see together.
"This is going to be a full experience, visual as well as physical experience," said Nebenionquit. "People will be moving around the grounds with the ebb and flow of music and art."
The festival always has an interesting assortment of vendors and this year will include traditional food vendors.
For the full line-up and ticket details check out their website.