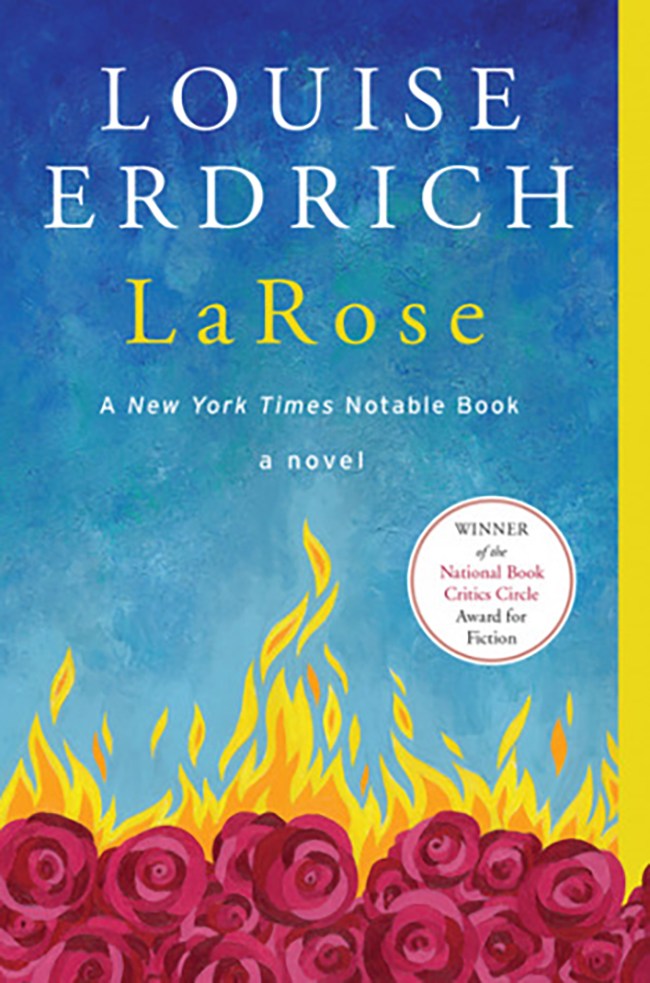 Reviewed by Christine Miskonoodinkwe Smith
LaRose by Louise Erdrich is a fictional novel that grabs the reader from the first page and from thereon it is hard to put down. The main character – Landreaux Irons – is hunting on the borders of his land in the late summer of 1999 in North Dakota, when he takes a shot at what he thinks is a young buck. It is a shot that forever alters his family's life and the lives of his neighbors:  the half -sister of his wife Emmaline –  Nola and her husband Peter Ravich. It is not a young buck he has shot at, but it is five-year-old Dusty Ravich he has shot who happened to have been walking through the forest at the time of the shooting.
When Landreaux finds out that he has shot Dusty, he is devastated and it takes everything in him to not relapse into the bottle again. Dusty was a friend of Landreaux's five-year-old son La Rose, and the two families have always been close. The shooting draws a rift between the two families leaving you wondering if things will ever be the same between them again. You ask yourself, how can you possibly overcome the loss of a young child especially when it's at the hands of a close family friend. Following an old Ojibwe tradition of retribution, Landreaux and Emmaline hand over their youngest boy – LaRose – to their friends and say, "Our son will be your son now".
Within this gesture of retribution, the reader is taken into what these two families endure after the inexplicable loss of Dusty. LaRose, who was also Dusty's best friend, has a lot put on his shoulders for a five-year-old, but he is considered an old soul with the ability to keep the calm between the Raviche's and his own family. He becomes absorbed into his new family but then must get used to being shuffled between the two families to appease the two-family's grief. He bears witness to the pain that his father's accident puts on both families. Nola is so lost in her grief that she almost commits suicide, only to be found by her daughter Maggie, and Peter gets lost in preparing for potential environmental disaster that he assumes will come with the new year 2000.
As the years pass, LaRose plays a pivotal role in keeping a tenuous peace between his two families and their mutual pain slowly starts to heal. It is only when a vengeful man from Landreaux's Residential School days begins raising trouble that this peace begins to become threatened once more.
LaRose written by Louise Erdrich is a powerful book that explores loss, justice and reparation. It is intriguing and well worth the read. La Rose was the winner of the National Book Critics Circle Award for Fiction and published in 2016 by Harper Perennial. ISBN: 978-0-06-227703-9