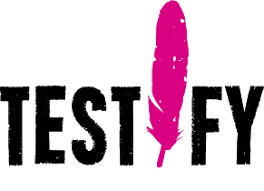 By Laura Robinson
Osgoode Hall is 128 years old, and lined with books and portraits representing an elite white and male model of "justice". The entrance on the eastside, for members of the Law Society of Upper Canada—a colonially loaded title if there ever was one—was the first portal for an audience about to be treated to "Testify: Indigenous Laws and the Arts Collective" on the evening of October 17.
"Testify" is just one of many Indigenous-led events the Hall hosts, and the Anishinabek Nation was well represented by Manitoulin's veteran actor Herbie Barnes (Aundeck Omni Kaning), and his up and coming student at The Centre for Indigenous Theatre, Jesse Wabegijig (Wikwemikong). Barnes and Wabegijig performed in Sarah Morales', Caleb Behn's and Justin Neal's "Boundary Bay"—the draft of a screenplay about LNG fracking set in B.C.
Barnes, whose acting career took off with his one-man performances in "Toronto at Dreamer's Rock" in 1989, plays Chief Sam Duncan. (Barnes' bio here: https://nac-cna.ca/en/bio/herbie-barnes) He's a basketball-playing father pressured to keep the jobs some people in the community have at a LNG plant, but ultimately agrees with youth leaders and others who flock to the area to protect what is left of their territory—company plans to expand will eventually eradicate their land and life. "Sam has a balancing act to play" says Barnes afterwards, "he's in a hard place—there's lots of politics involved. We need to feed our people—so yes, we need jobs, but we have to think of seven generations—ahead and back. This poor chief definitely has a difficult decision.
"But it's like voting against Energy East" he adds, referring to TransCanada's pipeline that just got killed after years of protest. "What does it do to the next generations?"
The next generation was front and centre in "Boundary Bay" and Barnes had much to do with that. Virtually the entire cast—talent from virtually all points of Turtle Island–came from The Centre for Indigenous Theatre in Toronto (CFIT) where Barnes teaches. One of those emerging actors, Jesse Wabegijig, started his theatre career at De-ba-jeh-ma-ig Theatre at eight-years-old, helping out literally in his community's backyard where the theatre is located. By the time he was 17, he was in the summer internship program, and with the main acting troop in 2014. Today he's on the National Arts Centre's Youth Advisory Committee as well as (CFIT)
"In 2015 my high-school went on strike," says Wabegijig. "I was in Toronto and I did theatre." The experience opened the door for him to opportunities and people who would help shape who he is now. He plans on taking the transitional year at University of Toronto in 2018 and then study philosophy. "I think it will help with my writing," he says. "It's about writer's craft—how we tell our stories."
Wabegijig says young people need to know "it doesn't matter if you run away or at the absolute bottom of life—you can make it as far as you want. I find the most difficult thing is, you'll be offered chances, but once you take them you have to work at it. If I hadn't worked hard, I'd still be on the island."
Life in Toronto's theatre lane is where his career needs to be now, but Wabegijig knows the importance of returning home. His writing on the National Arts Centre site pays tribute to those at De bah Je Ma Jig who mentored him and he looks forward to doing the same; "I want to contribute to the rapidly expanding body of work of Indigenous theatre and in turn help my community. It is said that the artist will bring back the souls of communities and I believe that wholeheartedly and art has kept me going and I want to share this with others. Theatre answers questions burning in the heart of our youth and takes away the emotion of being alone or feeling like they are the only ones who have experienced what they are. I will bring back everything I have learned and apply that to not only my community but in everyone that I possibly can." (Full bio here: https://nac-cna.ca/en/bio/jesse-wabegijig)