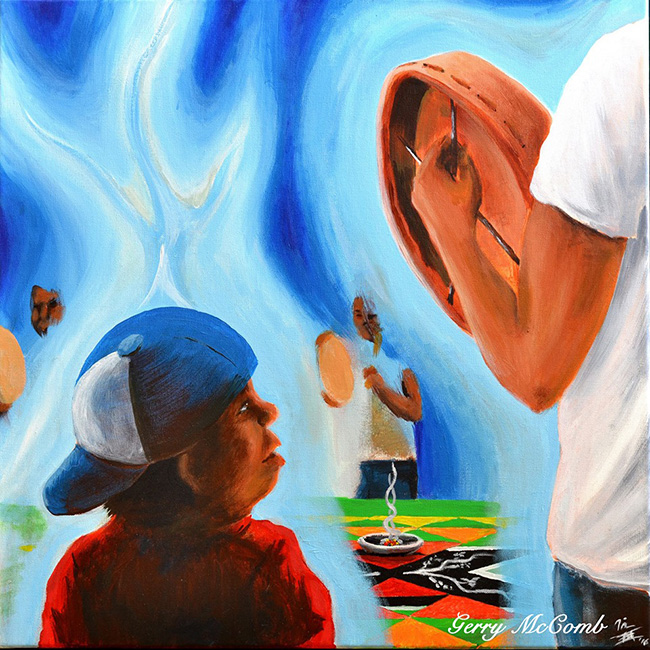 Please join the community in attending a Gala Evening next Wednesday, November 1st at the WKP Kennedy Gallery: Teamwork Makes the Dreamwork. 6:30-8:30pm, All are Welcome. Please arrive at 6:30pm to be a part of the Opening Ceremony, celebrations and remarks from local Indigenous voices including Chief Scott McLeod. This event is hosted in collaboration with the North Bay Indigenous Friendship Centre.
The event coincides with Reconciliation North Bay's one-year anniversary of public launch, which is in the month of November. November is recognized in North Bay as the Month of Reconciliation. Indigenous artists of the region have been invited to submit work in all media, to display their art in a large group exhibition running at the WKP Kennedy Gallery from November 1 – 20, 2017. Also on November  1st, a community art piece will be unveiled which focuses on Diversity and Inclusion, which was created in collaboration with the North Bay Heritage Gardeners.
Please join us for this important evening which brings the community together in the name of Reconciliation. Aylan Couchie, Nishnaabe Kwe of Nipissing First Nation, provides the community with the following words on why an exhibition such as this is important:
"We Call Upon…"
These three words front every one of the Truth and Reconciliation Commission's 94 Calls to Action. The calls are direct and all encompassing, written with the intent to action every level of government and every citizen of Canada, whether those people work in Business, Justice, Health, Education or even…in the Arts.
Throughout Canada's history, art has been used as a tool to stereotype and oppress Indigenous people while forwarding the process of colonization. From old Paul Kane paintings depicting First Nations people as uncivilized savages to works by the Group of Seven describing seemingly uninhabited landscapes used to promote the concept of terra nullius (nobody's land); art has shaped the way in which Canadians view and interact with the First Peoples of this land.
Folded into this problematic history, is the inarguable fact that through legislation created under the Indian Act, First Nations people were prohibited from practicing their culture or creating traditional artworks. Many extant artworks of that time were confiscated by Indian Agents and sold off to European collectors or placed into Canadian galleries and museums where many still remain.
This loss of visual culture, traditionally passed from generation to generation, was further compounded through the removal of children from their families and communities to be placed into residential schools. As such, it is only fitting that art should be part of the process of reconciliation, that it should be used to push back against the lasting effects that residential schools and colonization has had on our communities.
Art provides a neutral ground for opening hard discussions, it can serve as an educational tool or provide a platform for artists to "have their say". The process of making art can serve as a healing mechanism, allowing Indigenous artists to reconnect with their culture and work through their own reflections about the world they live in.
But, without being seen, art loses its purpose. Exhibitions such as this contribute to the forward momentum started by the City of North Bay on its long journey towards Reconciliation. It encourages dialogue and promotes education by presenting Canadians with Indigenous perspectives of the world we share. We Call Upon has no purpose unless there are those who respond. The dialogue of call and answer is the framework that Reconciliation is founded upon and it is key if we are to move forward building new nation-to-nation relationships along the way.  – Aylan Couchie, Nipissing First Nation