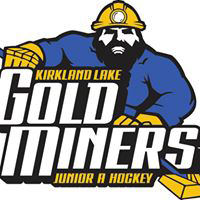 By Sam Laskaris
KIRKLAND LAKE – It certainly didn't take Greg Trudeau-Paquet long to adjust to his new home.
The 18-year-old, who is from Wikwemikong, was the key figure involved in a Northern Ontario Junior Hockey League (NOJHL) trade this past Friday.
Trudeau-Paquet, a centre, was traded from the French River Rapids, who play their home contests in Noelville, to the Kirkland Lake Gold Miners. In return the Rapids received two players and another individual yet to be determined.
Trudeau-Paquet, who is in his second NOJHL season, has been one of the league's top performers this season.
He had racked up 34 points (19 goals and 15 assists) in 25 games with the Rapids and was in fourth place in the NOJHL's scoring race at the time of his trade on Friday.
Trudeau-Paquet then collected eight points, including two goals, in his first three contests with the Gold Miners to take over top spot in the league scoring race.
"I'm pretty excited about it," Trudeau-Paquet said of the trade.
He was notified of the deal this past Friday when Kirkland Lake coach/general manager Ryan Wood called him to tell him the Gold Miners had acquired him.
"There was no hesitation," Trudeau-Paquet said. "I really wanted to come to Kirkland Lake. I wanted a fresh start."
It didn't take Trudeau-Paquet long to report to the Gold Miners. The same day he was traded he joined his teammates for a road contest and helped Kirkland Lake edge the host Sault Ste. Marie Thunderbirds 3-2 on Friday night.
Trudeau-Paquet earned assists on all three Kirkland Lake goals.
He also scored once and added an assist on Saturday as the visiting Gold Miners were doubled 4-2 by the Michigan-based Soo Eagles. And Trudeau-Paquet netted another goal and had a pair of assists on Sunday as Kirkland Lake was downed 5-3 by the host Blind River Beavers.
Trudeau-Paquet credited his new linemates, right winger Tyler Fyfe and left winger Marshal Nikitin, for his early successes with the Gold Miners.
"I have to give a shout out to my new linemates," he said. "I didn't know them before but I knew what they were capable of."
The line clicked immediately upon being formed.
"I was burying the puck when they were getting it to me and they were burying the puck when I was feeding them," Trudeau-Paquet said.
Fyfe earned five points in the past three games while Nikitin had four points.
Another reason why Trudeau-Paquet wasn't upset with the trade is because he went to a team that is higher in the league standings.
The 12-10-3-1 Gold Miners are occupying third place in the league's six-squad East Division. The 9-17-2-0 Rapids are in the divisional cellar.
As of Wednesday, the French River squad had 20 points, the same as the 9-13-1-1 Timmins Rock. But the Timmins club had played four fewer games.
"I'll miss French River and everything they did for me," Trudeau-Paquet said. "I wish nothing but the best for them and hope they make the playoffs."
Though he's only been with his new squad for a few days, Trudeau-Paquet believes the Gold Miners have all the pieces in place and can be a contender for the NOJHL crown this season.
"I feel we can come out in the second half of the season and dominate," he said.